RAINBOW'S NEXT CHOCOLATE AND CREAM LITTER WILL BE DUE NOVEMBER, 2021!!!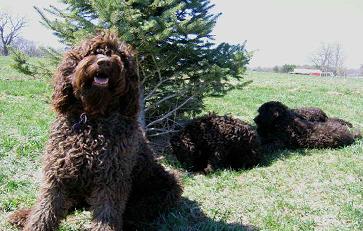 We had a larger than expected small medium to medium sized litter with"Blondie" and Hawkeye puppies June 1st, 2021. This gorgeous chocolate & cream litter will be ready August 6th, 2021. WE HAVE ONE CHOCOLATE BOY AVAILABLE!
Rainbow blessed us with large medium to standard chocolate and cream puppies May 4th 2021, sired by Aus'm Ozzie, who comes from therapy temperament lines 🙂 Their reserved puppies will go home 10 weeks later in July. Her next litter is due November 2021. We have several openings in this litter!
Our lovely 50 lb. chocolate girl Leia's Legacy aka Lacey had delightful standard sized chocolates and creams with our 50/55 lb awesome stud Aus'm Ozzie June 13, 2021. Their puppies will be ready at 9/10 weeks of age August 18, 2021. This litter is now reserved. Their next litter should be due January 2022, ready at 10 weeks in March 2022!
See Available Puppies page for more info. We are accepting applications so reserve NOW to get the puppy of your dreams 🙂
Welcome to Heartland Labradoodles in beautiful Iowa! We specialize in authentic multi-generational, non-shedding and allergy friendly Australian Labradoodles and Australian Labradoodle Puppies. Upcoming medium and standard litters will come in shades of chocolate, parchment and cream/caramel coats. More information. We are located on an Iowa family farm in America's Heartland, and very close to the Illinois and Wisconsin borders.
Our puppies are home raised in a loving and nurturing environment, and come spay/neutered and microchipped, with all wormings and immunizations up to date. They are night time crate trained at our bedside and have beginning leash and potty training skills on board before going home at 9 to 10 weeks of age. They come with a THREE YEAR Health Warranty and a lifetime of support!
Our breeding dogs' bloodlines originate with Tegan Park and Rutland Manor in Australia, who have worked hard for years to advance the Australian Labradoodle with high-quality breeding and stringent guidelines.
We serve families and work with breeders all over the world, traveling with your puppy in cabin with me to your local airport if families are too far to drive to us to pick up their puppy! We offer complimentary deliveries up to a four-hour drive round-trip to bordering states of Illinois (IL), Nebraska (NE), Minnesota (MN), Missouri (MO), and Wisconsin (WI)., meeting you half way. (Conditions may apply) We do not ship puppies solo by air but can travel to your airport with puppy in cabin and meet you and your family 🙂
Thank you for visiting Heartland Australian Labradoodles! Whether you are in search of non-shedding, allergy friendly Australian Labradoodle Puppies for Sale or wish to learn more about the breed, you have come to the right place. As a multi-generational Australian Labradoodle Breeder since 2005, Heartland Labradoodles breed and raise the finest in Australian Labradoodles and educates new owners about their new life-long companion. All of our puppy's lineage can be traced back to Australian's Tegan Park and Rutland Manor bloodlines.
About Heartland Labradoodles
Raising all of our Australian Labradoodles in the safe and secure environment of our home, Heartland Labradoodles guarantees all of our visitors will truly love our puppies for sale, coming from a small Iowa family farm that is dedicated to raising happy and healthy animals. We are located in Iowa near the Illinois and Wisconsin borders, allowing all of our adorable Australian Labradoodle puppies to have plenty of free space to roam under the care of a true and dedicated Australian Labradoodle and Labradoodle Puppies Breeder.
Different From Other Breeders
What makes Heartland Labradoodles different from other breeders? First, it is that we only select, breed and raise multi-generational Australian Labradoodle Dogs For Sale that displays the best of breed characteristics. As a caring and concerned Australian Labradoodle Breeder and retired Registered Nurse that Iowa residents have come to trust, we selectively breed dogs with proven bloodlines and excellent temperaments with extensive health testing, yielding Australian Labradoodles for Sale that Iowa and surrounding area dog enthusiasts will treasure.
At Heartland Labradoodles, we know that Iowa residents and families everywhere will want one our Australian Labradoodle Puppies for long-term healthy companionship, as we strive to place all of our dogs in safe and loving homes. Therefore, all of our new puppies are handled on a daily basis to ensure each dog is learning, growing and developing as expected. See our Early Neural Stimulation program link for more on this important phase of a puppy's education.This way we get to know their personalities and evaluate their individual temperaments. Daily handling of our puppies also allows each dog to become used to voices, touches, and movements that their humans make. By the time they are welcomed into your home, all of our Iowa area and surrounding customers will find our Australian Labradoodles are well-adjusted and will fit right into their new family environments.
To make the perfect match, if you see a puppy you may be interested in or are interested in an upcoming litter you wish to inquire about, please take the time to fill out our Puppy Application so we can help you make the perfect puppy-new owner pairing. After your application has been submitted, Heartland Australian Labradoodles' Owner, Jan Birney will contact you with more information.
Organizational Affiliations
A recognized Australian multi-generational Labradoodle Iowa Breeder, Heartland Labradoodles is proud to be a long-standing 15-year member of the ILA/ALAA and current recipient of the Gold Paw Award.
Save