---
---
Precious Penny and Blondie have both delivered wonderful litters. They have 5 and 6 puppies respectively. We'll have more information and pictures soon.
---
---
Precious Penny-Rocky Top litter of 5 at 2 weeks 9-06-19
Heartland's Precious Penny – Pedigree
Heartland's Rocky-Top – Pedigree
Price: $2,750, Reds $3,000
Blondie-Murphy pups at 2 weeks 9-08-19,
Heartland's Platinum Blond – Pedigree
Heartland's Murphy – Pedigree
Price: $2,750, Reds $3,000
---
---
Personal Delivery to your home or Airport is Available: $450 to $500 if flying to East and West Coasts. Neighboring states within a 4 hour delivery round-trip at no charge, conditions apply.
We do NOT charge state tax as we have farm exemption status.
---
---
DECEMBER  2019 LITTERS READY FOR MARCH 2020!!!
---
---
Our sweet 43 lb.multi-generational medium Australian Labradoodle girl Scottish Lass will have her upcoming chocolate litter sired by our 30 lb. small medium stud muffin Hope Farm Hawkeye late December 2019!!!  This repeat pairing will produce lovely chocolate and possibly cream puppies with wonderful temperaments and soft, fleece/curly fleece coats 🙂
These puppies come spay/neutered, microchipped, and with age appropriate immunizations/wormings. We crate train them at night at our bedside in their own new crates, so that they are sleeping through the night for you! We also establish an outdoor potty routine before they go home and work on leash training as well 🙂
These chunky delights are expected to weigh ranging from 32 to 43 lbs. at maturity and will be ready for their new homes at  9/10 weeks of age March, 2020. Place your deposit now for the gender/color of your choice!!!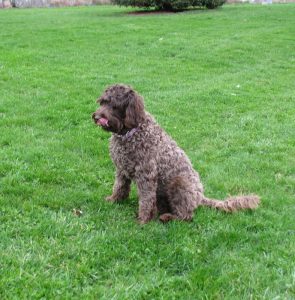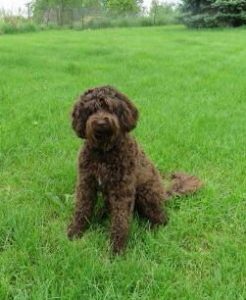 Heartland's Scottish Lass – Pedigree
Heartland's Hawkeye – Pedigree
Price: $2,750
---
---
Leia's Legacy aka Lacey
---
---
Our newest doodle to join our breeding team is our Standard girl named Leia's Legacy, out of our very own Princess Leia!!! She will honeymoon with Aus'm Ozzie in October, 2019 and they will produce both chocolate and cream standard puppies due late December 2019, with puppies ready to go to their forever homes in March, 2020 🙂 We look forward to their upcoming puppies with awesome therapy temperaments and fleece to curly fleece coats! 
Heartland's Leia's Legacy – Pedigree
Aus'm Ozzie – Pedigree
Price: $2,750
---
Accepting Reservations Now! Just Fill Out The Form To The Right Or Call Us Today!
PLEASE NOTE:  If you are interested in a puppy please fill out the Puppy Application and we will be in touch to answer further questions. Your application will help us match you with your perfect puppy!
If you do not hear from us within 24 hours please email Jan directly at smb@southslope.net.
***Breeder reserves the right to retain any puppy/puppies for their breeding program in each of these litters.***
Updated 8-24-19
.