WE NOW HAVE A TRAINED AND SPAYED, MORE MATURE AUSTRALIAN LABRADOODLE PUPPY AVAILABLE AT THIS TIME!
Blondie & Hope Farm's Hawkeye
---
Retirement litter delivered September, 2022

Sandcastle's Silver Starlite aka Blondie is an amazingly intuitive girl with an awesome temperament to match. Her small medium 30 to 35 lb chocolate and cream puppies have soft fleece/curly fleece allergy friendly non-shedding coats to die for! She has been recently retired/spayed and lives with her forever family now. Hawkeye lives with his own family nearby as well (we have breeding rights).
Available puppies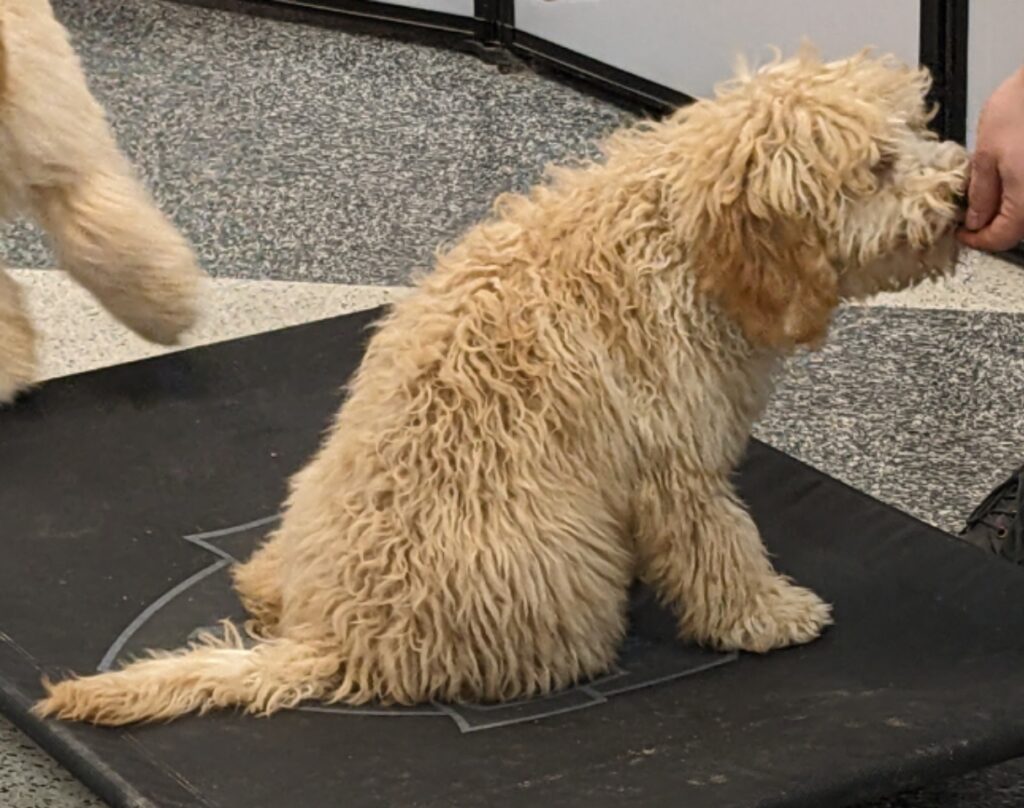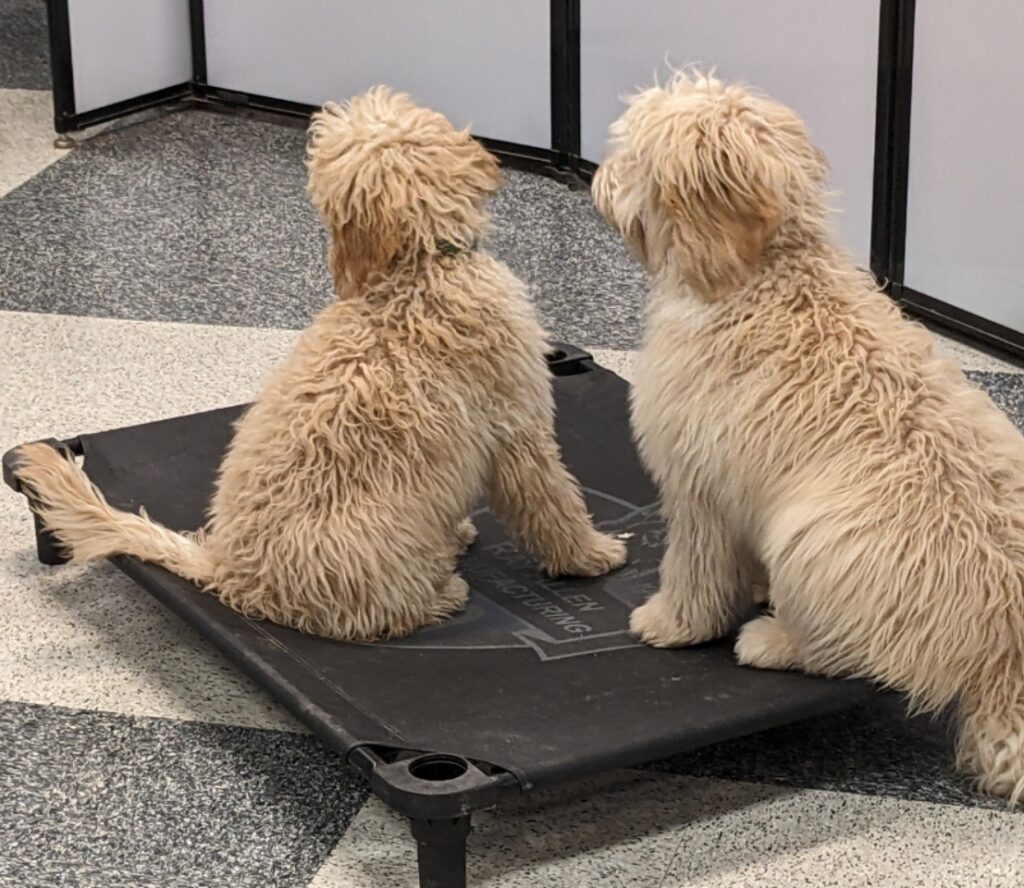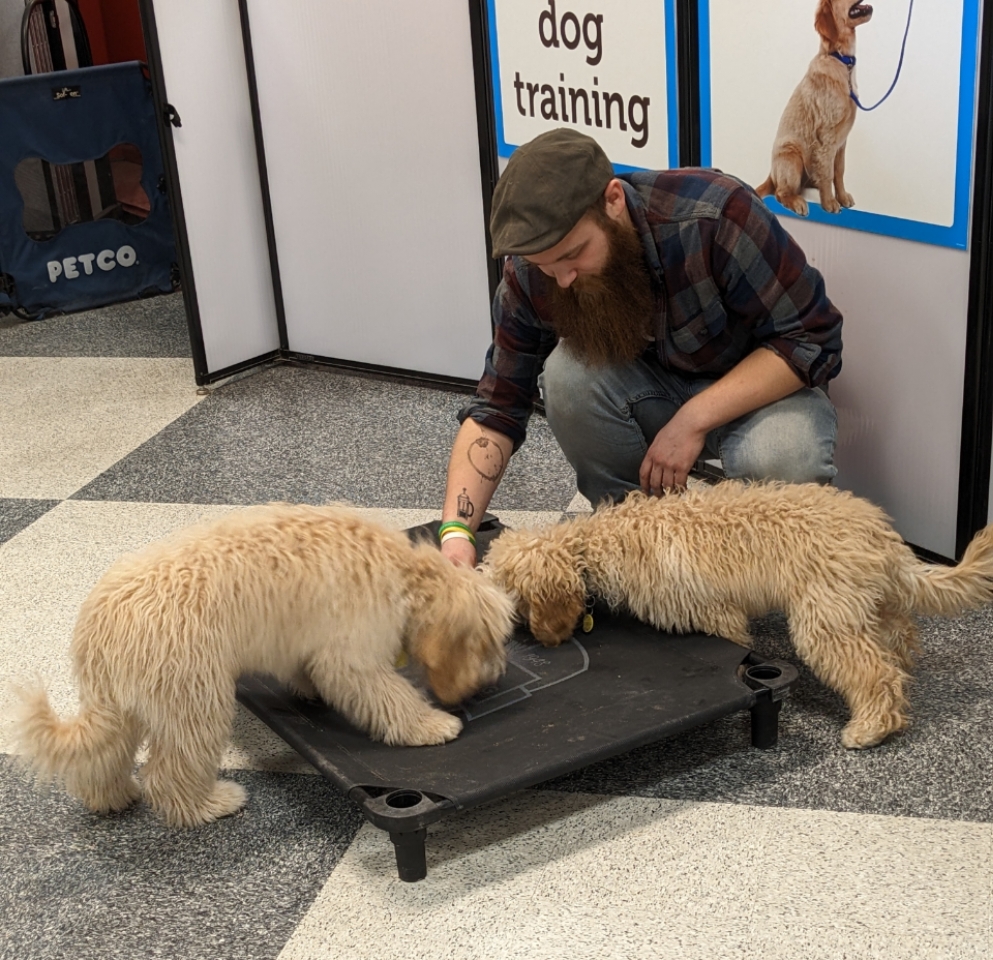 Price: $2,900, Reds $3,500
Personal Delivery to your home or Airport is Available: $450 to $550 if flying to East and West Coasts. If too large for in cabin travel, we can deliver your puppy to you!
Neighboring states within a 4 hour delivery round-trip at no charge, conditions apply.
We do NOT charge state tax as we have farm exemption status.
Lassie's Delight & Heartland's Buttons
---
Her first litter delivered late September, 2022
Puppies with extra training are value added at $2900 🙂
Heartland's Lassie's Delight is the daughter of our very own Scottish Lass ( retired/spayed now)! This sweet, silly, 35 lb. small medium multi-gen Australian Labradoodle girl had her first delightful litter sired by our awesome 35 lb. therapy temperament stud Heartland's Buttons, who lives with his own family in nearby Marion (we have breeding rights) and has recently earned his AKC Canine Good Citizen Award! This is a new pairing and we are so pleased, they have wonderful temperaments and soft, fleece/curly fleece non-shedding coats in creamy apricot, dark chocolate, and ebony black
Lassie's Delight – Pedigree
Heartlands Buttons – Pedigree
These puppies have all been adopted.
All puppies come spay/neutered, microchipped, and with age appropriate immunizations/wormings. We crate train them at night at our bedside in their own new crates, so that they are sleeping through the night for you! These puppies are fully house trained, and learning simple commands and leash training in their puppy classes as well. At $2900, these are value-added to make your life a little bit easier 🙂 Puppies can be held longer for further training at $150/wk.
These chunky delights are expected to weigh ranging from 30 to 35 lbs. at maturity. We look forward to sharing them with you…accepting deposits now!
OUR GUARDIAN PROGRAM
If you are interested in a FREE non-shedding, allergy friendly Australian Labradoodle as part of our local guardian home program, please give us a call.